Varanasi is an enthralling place located in India, packed with sacred temples, ghats and holy places. It's a destination that has affluent spiritual background, for those who visit the city can be quite astonishing! Thus it's better to have a plan beforehand so as to make most of your morning there. Here are 11 ideas which will help you sightsee Varanasi at daybreak enabling you get maximum out of this beautiful town. From discovering palaces to captivating boat rides on Ganges river, these are some noteworthy activities in Varanasi during early hours that certainly render your visit unbelievably cherishable!
5 Must Things To Do In Varanasi in Morning
1. Experiencing the Sunrise Boat Ride in Varanasi
Nothing can be more mesmerising than waking up early in the morning and taking a boat ride on River Ganges. Varanasi, which is known for its spiritual significance due to the Holy river has banks lined with temples where devotees come from far away places. If you ever visit this divine city make sure that don't miss out on such an opportunity of witnessing life by the side of this changing colour water body; it's deep blue slowly transforming into orange as sun rises through horizon! It will surely give you some beautiful memories to cherish forever.
If you're lucky enough to be in Varanasi, India at the right time of year, you will witness a special sight: hundreds of devotees taking their early morning dip into holy water. They offer up prayers and gifts such as diyas (oil lamps) which are floated on the river. You may even catch a glimpse of some local animals along your journey! It's an amazing experience that shouldn't be missed – who knows what serendipitous sights might reveal themselves if you take part?
The optimum time for a dawn boat ride from Varanasi is between 5:30am – 7:00am in wintertime or 6:00am – 8:00 am during the summer, so you can observe an incredible vision of sunbeams radiating above still waters of Ganges River with lovely silhouettes cast by boats sailing beside either bank creating that unforgettable scene which will remain etched into your memory forever. It's advisable to make reservations ahead so as not to miss out on this one-off experience! Not only because it might be tight on availability but also since it tends to get jam packed at times and booking earlier would guarantee some personal space in your rowboat while taking pleasure in this marvelous natural spectacle up close! Have you ever taken such a breathtaking journey?
2. Visiting the Famous Ghats during Morning Hours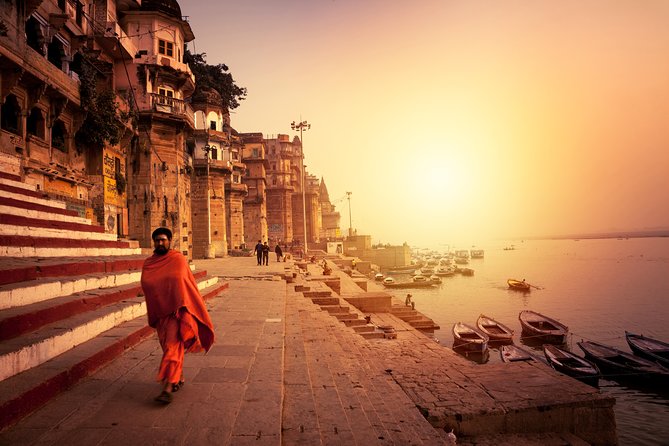 A visit to Varanasi would be incomplete without paying a trip to the iconic ghats. These ghats are integral for understanding what makes this city so special and must not be missed if you're spending some time here! The best thing is, mornings offer plenty of opportunities for cultural exploration – whether it's people bathing in the Ganges or washing clothes or even offering prayers; there's something new around each corner when you take a boat ride along its waters. Wouldn't that make your day?
There are lots of temples situated on these ghats, offering a great chance to experience Hindu culture and traditions right at the start of day. And when you get up early in the morning, what awaits is an astonishing view – with sunrays playing across calm water surface producing an array of orange and yellow colour. This makes for an ideal photo opportunity; any photography enthusiast cannot miss it as this sight will stay close to your heart forever! Plus if luck favours then during mornings one can also witness holy Aartis performed at different temple grounds located here – definitely adding a spiritual element to your Varanasi visit..
3. Exploring the Ancient Kashi Vishwanath Temple
Varanasi is the spiritual hub of India and a favourite destination for Hindu pilgrims. For centuries, people have been flocking to one of its most sacred temples – Kashi Vishwanath temple. This ancient edifice has been standing since 8th century and millions worship here annually. Perched atop on a high platform, it's surrounded by several smaller shrines dedicated to different deities – so there's plenty to explore! Not just that; visitors are able to engage in rituals or simply marvel at this beautiful structure with their own eyes.
The perfect time to visit Kashi Vishwanath Temple is first thing in the morning when it opens at 5 am for performing Aarti or ritual worship. Priests chant mantras as they offer flowers and light diyas around a statue of Lord Shiva, with devotees singing along devoutly. Afterword, visitors can explore different areas of the temple grounds including its four main entrances named Gokhals which are each guarded by statues representing Brahma (North), Vishnu (East), Maheshwara (West) and Surya (South). Plus there's loads more within that – small temples where you can make your prayers before roaming the outside where plenty of Hindu mythology related idols await such as Hanuman Garhi or Ram Raja Temple; both worth having a look during this early-morning experience.
If you're looking for something truly unforgettable then going to Kashi Vishwanath Temple first off should be on everyone's To Do In Varanasi list! Seeing it all at daybreak makes everything so much better – why miss out?
4. Savouring Local Breakfast Delights in Varanasi
Varanasi is a city in India that offers a unique experience for visitors and locals alike, but one of the greatest joys has to be savouring its local breakfast delights. From hot jalebis served with chutney, to piping-hot samosas and kachoris – it's guaranteed you'll find something even the pickiest eaters will enjoy. And if sweet isn't your thing there are plenty of delicious hearty dishes too like paneer pakoras or aloo parathas which can all be enjoyed accompanied by an array of flavoursome chutneys or curries. How could anyone resist such mouthwatering treats?
Are you looking for something lighter and healthier? If so, why not give the traditional poha (flattened rice) or upma (semolina) dishes a go. These can be livened up even further with freshly-squeezed juices from juice bars around town or masala chai to add some Indian flair. For an extra special experience, venture over to Assi Ghat – there's tonnes of delicious deep fried snacks like pakoras and bhajiyas waiting to be devoured accompanied by tea served in clay cups! No matter what you decide on as your morning grub when discovering Varanasi's cuisine – it'll taste great! Whether its just a light snack while sightseeing throughout the day or grabbing yourself an extravagant feast fit for royalty; savouring these local breakfast treats will make sure that your time spent at this stunning city is remembered fondly
5. Engaging with Morning Yoga and Meditation Sessions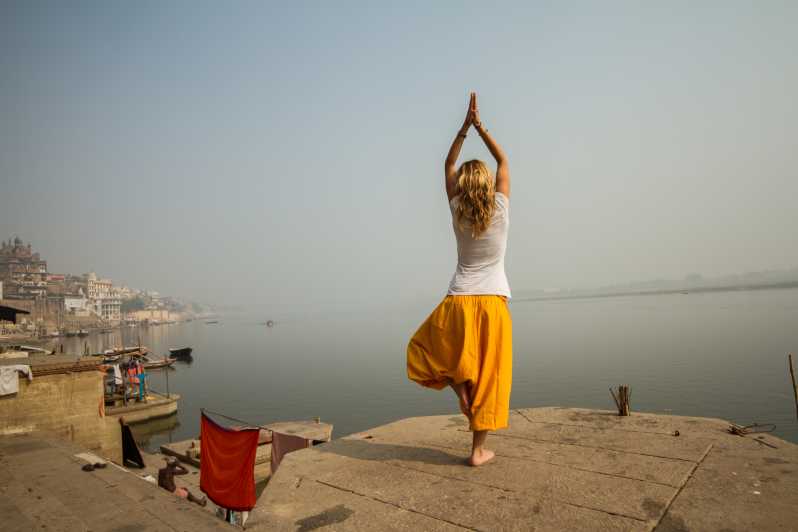 Varanasi is India's spiritual hub and one of the most sacred cities on earth. It has an exciting mix of religious, cultural and spiritual offerings that you don't want to miss out on if you visit – including morning yoga and meditation sessions. Whether it be for some relaxation or a journey towards enlightenment, there are plenty of possibilities available all over town! Can you imagine meditating in the same city where monks have been doing so for centuries? Or taking part in a traditional Indian yoga class with locals by your side? What better way could there be to gain insight into this unique ancient culture?!
A great way for those who want to give their mornings a bit of structure is by joining one of the many yoga classes available in Varanasi. These sessions are designed so that practitioners can gain physical strength, flexibility and inner peace through combination of poses, breathing exercises and meditation techniques. If you prefer more personalized instruction then there's plenty of private teachers too offering small group or even individual lessons – perfect if your schedule demands it! So why not take advantage this wonderful opportunity today? Who knows what positive effects these practices could have on your life?
If you don't have time to make it into a yoga class or prefer something more relaxed, there are plenty of outdoor spots in Varanasi where visitors can do their own thing or join the locals who meet up at sunrise for an early morning group session. For those wanting to really get stuck-in with some spiritual exploration, there's no shortage of ashrams around town offering experienced teachers and daily meditations as well as other activities such mantras chanting and exploring traditional Indian philosophies like Vedanta and Advaita during tea ceremonies. No matter which option you go for when practising yoga/meditation during your visit to Varanasi, this kind of activity will always leave feeling refreshed – both mentally & physically!
Summing Up
To sum it up, Varanasi is an amazing city with something for everyone to enjoy. From the breathtaking landmarks and architecture to activities such as yoga or a peaceful walk by the Ganges – there's just so much on offer in this vibrant place. It would be a real shame not to take advantage of all these incredible things whilst visiting! So make sure you check out all that this stunning location has to offer; you'll no doubt have some truly remarkable experiences here.