I love going to different destinations to learn about that particular place so last year I decided to check out Shimla. Shimla, the state capital of Himachal Pradesh in India, is a city surrounded by spectacular natural beauty and steeped in history. Shimla, which served as the British Empire's summer capital once upon a time, has a distinct culture, language, and allure. I'll describe my vacation in this post so that if you decide to visit this captivating location, you may get some suggestions. My travel experience will offer all you need to know if you're considering a trip to this breathtaking location. I'll go over everything you need to know, from travel advice and information to must-see locations. So you can make the most of your trip to Shimla.
How to reach Shimla?
Shimla's closest airport is Jubbarhatti. The distance to the closest domestic airport from Himachal Pradesh's capital city is 23 kilometers. The closest international airport, located 344 kilometers away in New Delhi, is Indira Gandhi International Airport. To get to the picturesque hill station from the airport, use a bus, a taxi, or a private taxi.
Best time to visit Shimla
Himachal Pradesh's stunning hill town of Shimla is appealing all year long. Every season brings with it a special beauty. Pleasant summers last from May until June. The picturesque and adventure-ready valleys are a sea of lush green. In the winter, snowflakes the size of peas cover the entire landscape. Late November through February sees heavy snowfall. The attractiveness of snow activities on the slopes attracts visitors. Lastly, the hill station maintains its allure and draws tourists for the tranquil, tourist-free atmosphere during the wet months of July to September.
Where to stay in Shimla?
Shimla is one of the most popular hill stations in this country. Therefore no matter what month you arrive in, finding a place to stay won't be an issue at all. There are hotels in every price range available in this area, from lavish 5-star resorts to modest guest houses. Here, you can easily locate a room for as little as Rs. 700 per night. You'll have agents following you for a fantastic hotel offer the instant you get to Shimla. You can also make a reservation online if you've chosen a hotel.
Packing tips:
Cotton summer apparel and a lightweight jacket would be appropriate for chilly evenings.

Warmer attire, including thick socks and warmer jackets, is recommended if you're traveling during the winter.

If you're visiting during the monsoons, bring your umbrella and windbreaker as well.

Given the amount of walking required here, sturdy walking shoes—which are a necessity if you're hiking—make sense.

Additionally, bring Sunscreen, particularly if you're ascending to higher altitudes.

Don't forget to pack generally prescribed medicines, and electronic chargers for tablets, and smartphones.
My take on Shimla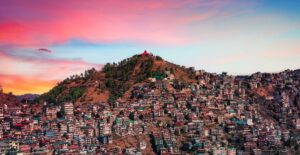 Day 1:
After reaching Shimla, I checked in at my hotel at around 11 AM, had my breakfast, and went sightseeing. Firstly, I visited the Jakhoo temple to take blessings there. The environment here is so soothing that devotees love spending most of their time here. Next, one may also try a 5 mins ropeway ride from Ridge to Jakhoo and vice-versa. We attempted it too and it was a great experience. (P.S. I visited Shimla with four of my childhood friends since they love traveling too.)
So, next, we planned to discover the Ridge area which is the most crowded one. There, I visited Christ Church, constructed in 1857, which is the second oldest church in North India. It was evening time by now and the Himachal state capital appeared breathtaking in the evening. We decided to explore the nearby markets before having our dinner. Once after reaching our hotel, we had some food from the on-site restaurant and then slept.
Day 2:
After waking up, we had a great breakfast at the nearby cafe. After which, we got ready to explore more of what Shimla has to offer today. So we left for the Indian Institute of Advanced Studies. This is a beautiful place where you can get to see so many things. Just opposite this institute, there is Himachal bird park. It's a small park but it took us long hours to complete the entire park. This is due to the fact that time flew by because we were chit-chatting and taking pictures too.
After spending some time here, a few locals were planning to visit a nearby temple. Well, we too thought to go there so the last place to see today was Tara Devi Temple, one of Shimla's most popular religious sites. To wind up the day, we took transport to reach back to our hotel, have some nice food from the nearby restaurant, and strolled a little before finally going to bed.
Day 3:
On our third day, I planned to first explore the Hawa Ghar so we left for this spot. This is a well-known vantage point for the snow-capped mountains and winter celebrations and is located close to the Ridge. At the Ridge, you will also witness the infamous Gaiety Cultural Complex, which dates back 122 years. One of India's oldest cultural complexes, it serves as Shimla's main hub for art lovers and aficionados.
Next, we planned to do some shopping on the Mall Road. There is everything one needs in this area, including stores, food carts, restaurants, and travel agencies. For visitors staying in this area, it serves as the major thoroughfare. When I went in the summer, it was rather crowded because everyone was on vacation and having a great time, but the vibe was so good.
Furthermore, to have food, we step in at a cafe on Shimla's Mall Road. It is part of the Kalra Commercial Complex and the environment is very pleasing. Simple, beautiful, and affordable are all adjectives that describe the seating arrangement. After having our food and clicking pictures, we went back to the hotel to sleep.
Day 4:
We took an early morning drive to Kufri on the fourth day of our Shimla trip schedule. A nearby hill town called Kufri is set at a height of 9000 feet. The tiny village allows travelers to get a glimpse into the way of life of the locals and provides mesmerizing views of the Himalayas. Here we checked out Mahasu Peak, Fagu, and the Himalayan National Park too.
We heard from the locals that the highest cricket field in the world is located in this charming town. And the Chail Wildlife Sanctuary and Chail Palace are two of the area's most visited tourist attractions. So by the evening, we were able to see both Kufri and Chail and return to your accommodation without becoming worn out. We had our dinner and packed all the stuff since we had an early morning booked flight to return home.
Bottom Lines:
What can I say more about this fascinating spot? It's a wonderful location to spend your next vacation at. Do not hesitate to come here if you are planning a visit! I'm even thinking of making plans to come back someday.