Varanasi is one of the oldest living cities in the world. Situated on the banks of the holy Ganga river, this mystical city is known for its ghats, ancient temples, vibrant culture, and religious significance. While most tourists flock to the popular ghats and temples, Varanasi has some hidden gems tucked away in its winding alleys that often go unexplored.
In this blog, we bring you the top 10 offbeat places in Varanasi that will give you a glimpse of the real Banaras away from the well-trodden tourist circuit. Get ready to explore a different side of this ancient city!
Offbeat Places to Visit in Varanasi
1. Nepali Temple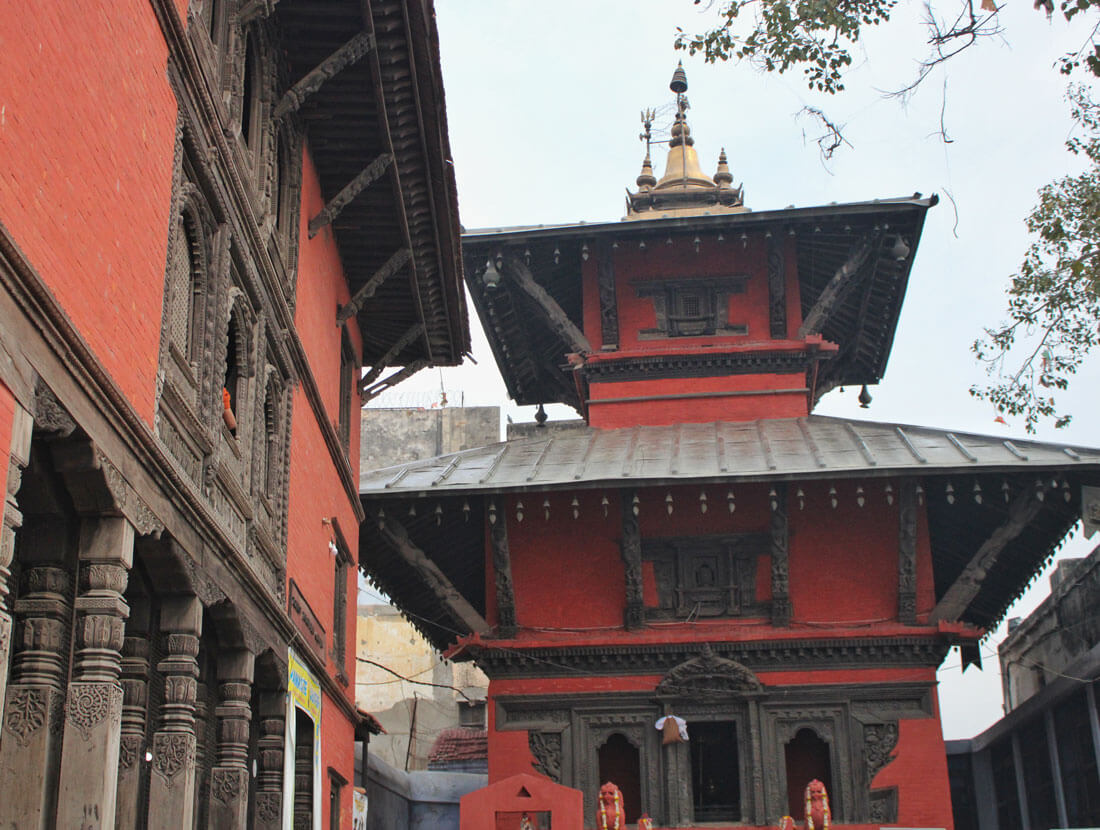 Hidden in a narrow lane near Godowlia market, Nepali temple is an architectural marvel built in traditional Nepali style. The temple is dedicated to Lord Shiva and was built by the King of Nepal in 1911 during his visit to Varanasi. Its intricate woodwork and exquisite carvings make it stand apart from regular Indian temples. Don't miss catching the evening aarti here accompanied by temple music.
Address : Near Lalita Ghat, Lahori Tola, Varanasi, Uttar Pradesh 221001
Timings: 04:00 am to 09:00 pm
Nearest Railway Station: Varanasi Junction: 6 Km, Mughalsarai Junction: 17 Km, Maduadih Railway Station: 4 Km, Varanasi City: 2 Km
Nearest Air Port: Lal Bahadur Shastri International Airport, which is around 26 km away from the northwest of Varanasi.
Nearest Bus Stand: Varanasi Bus Stand at a distance of nearly 4 kilometres from the Kashi Vishwanath Temple.
2. Bharat Kala Bhavan Museum
Tucked inside the sprawling Banaras Hindu University campus, Bharat Kala Bhavan is Varanasi's best museum displaying a vast collection of paintings, sculptures, and artifacts chronicling the heritage of India. The museum has over 100,000 exhibits including ancient jewelry, weaponry, paintings, and Hindu and Buddhist sculptures. Art aficionados must visit this offbeat museum to immerse themselves in India's rich cultural history.
3. Ramnagar Fort
Located 14 km away from Varanasi, the 18th century Ramnagar Fort gives you a glimpse into the heritage of Varanasi's erstwhile kings. Built in Mughal style, the fort flaunts carved balconies, open courtyards, and an ornate Durbar Hall. An interesting part is the royal collection of vintage American cars, horse-drawn carriages, royal palanquins and elephants. Don't miss the evening aarti at the fort's Veda Vyas temple.
4. Chunar Fort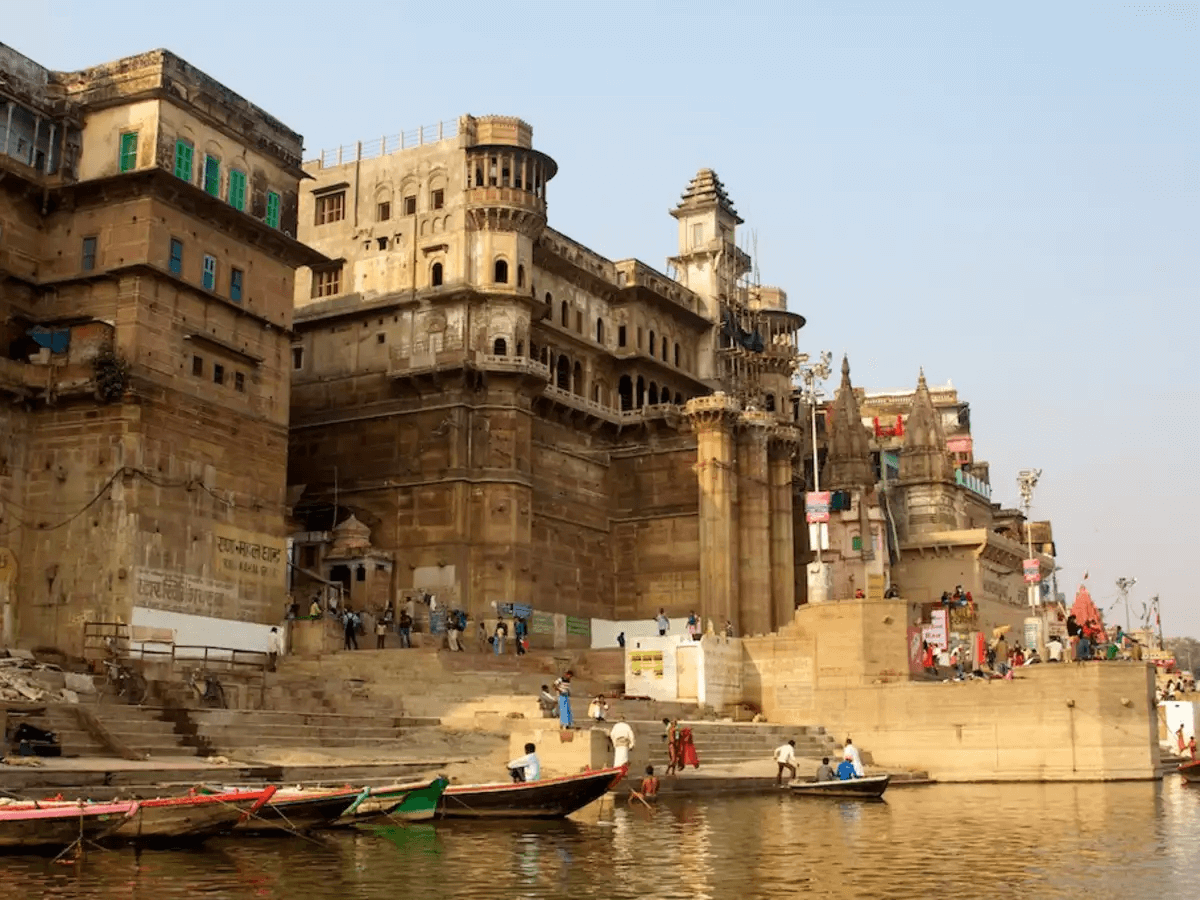 Perched atop a hill 40 km from Varanasi lies the imposing Chunar Fort. Dating back to the 6th century, this fort is steeped in history. Legends say that part of the fort was built by King Vikramaditya and later developed by King Ashoka. The fort has witnessed several rulers including Sher Shah Suri, Akbar and the British. Take a guided tour to explore ancient rock carvings, arches, and precious stone scriptures inside the fort. The panoramic view from the top is simply breathtaking!
5. Sarnath
Just 10 km from Varanasi, Sarnath is one of Buddhism's major pilgrimage centers. This is where Gautama Buddha gave his first sermon after attaining enlightenment. Among the ruins are Ashoka Pillar erected by Emperor Ashoka to mark the site of Buddha's first sermon. Other highlights are Dhamek Stupa, Chaukhandi Stupa, the Archaeological Museum with Buddha relics, and many monasteries built by Buddhist countries like Japan, China, and Thailand.
6. Darbhanga Ghat
Darbhanga Ghat is one of the peaceful, undiscovered ghats away from the main hustle-bustle. Flanked by beautiful 18th century mansions on one side and the placid Ganga on the other, the ghat exudes old-world charm. Soak in the ambiance on an early morning boat ride or capture an amazing sunset view in the evenings. You can also spot some rare migratory birds here during winter.
7. Khirkiya Ghat
Hidden between Munshi and Raja Ghats, Khirkiya ghat is a quiet spot to experience the spiritual side of Varanasi. The ghat has a monastery dating back to the 16th century along with some ancient ruined structures and shrines. According to legends, there was an old door or 'khirki' near the ghat from where it derived its name. The best time to visit is early morning for meditation.
8. Gyan Kupor Well
Believed to be built by King Vikramaditya around 2000 years ago, Gyan Kupor well inside the Kashi Vishwanath temple premises is one of the most significant ancient structures in Varanasi. The water inside the well is said to have mystic and curative powers. Many devotees drink the water from Gyan Kupor well as part of pilgrimage rituals. Take a guided tour of the temple to learn more about the well's intriguing history and legends.
9. Pind Daan rituals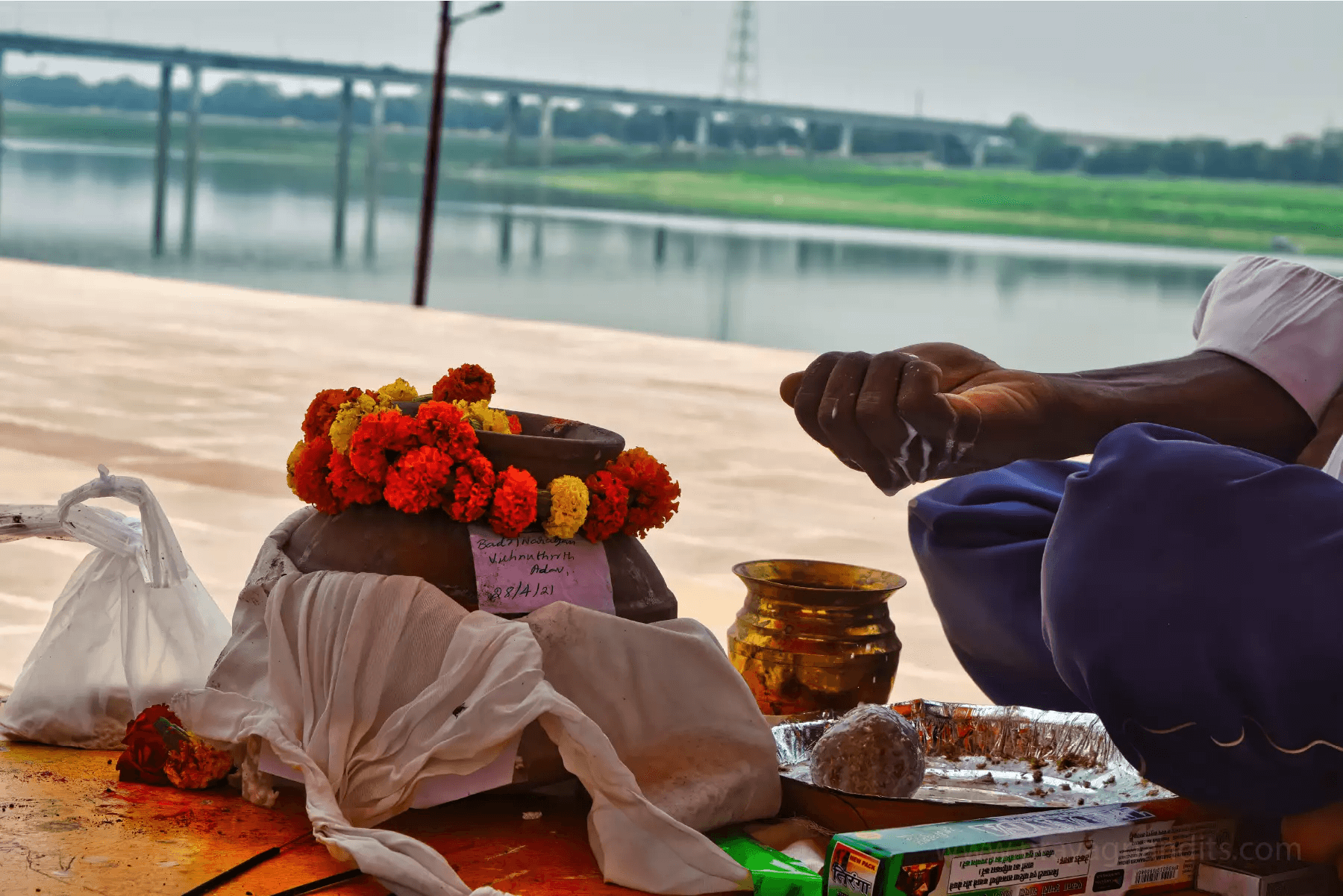 Among the unique things to do in Varanasi is observing the traditional Pind Daan rituals performed at Manikarnika and Harishchandra ghats. People from across India visit these ghats to offer Pind Daan, which are symbolic food balls, as offerings to ancestors seeking salvation. Priests chant hymns and bathe pilgrims in the holy waters of Ganga as part of the elaborate rituals. Witnessing this spiritual tradition gives an insight into Varanasi's sacred customs.
10. Kashi Vishwanath Temple at Night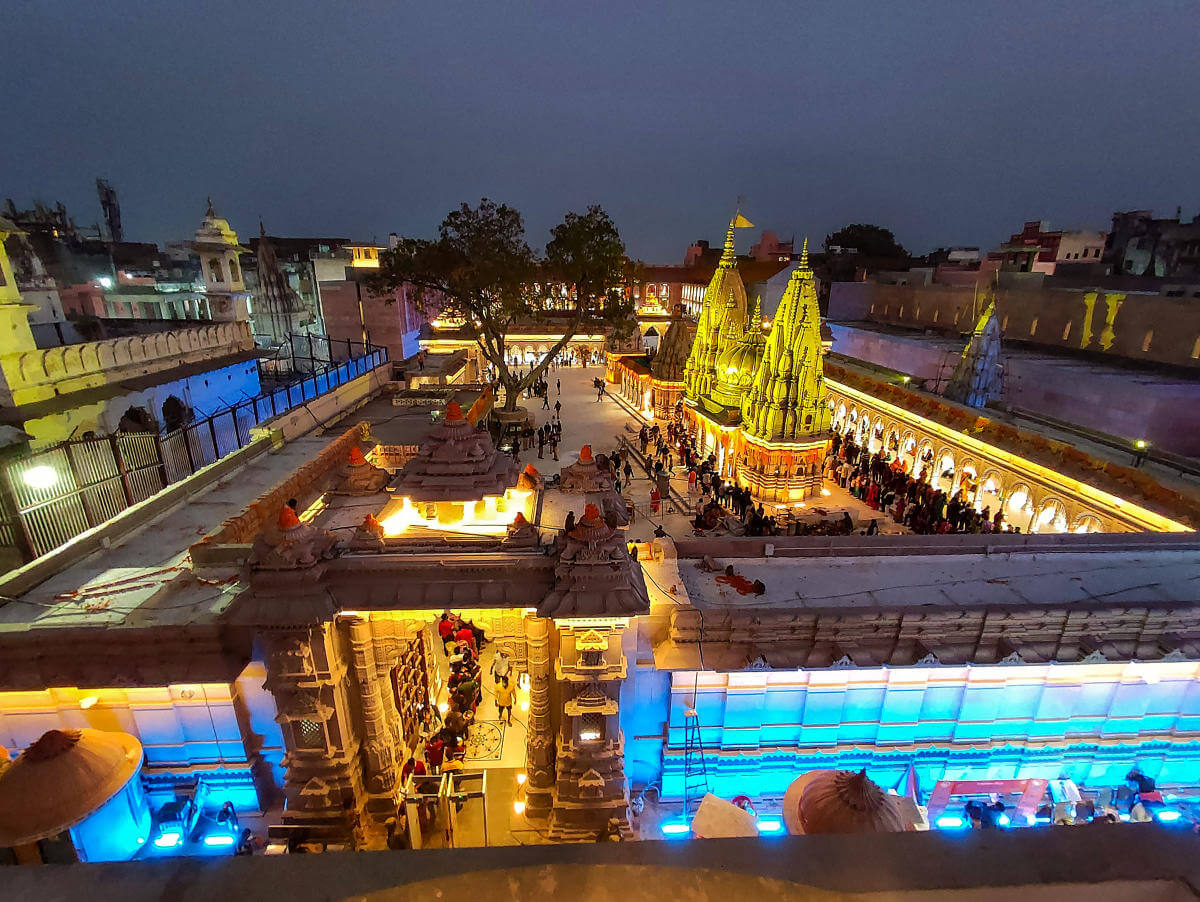 Take an offbeat night visit to the iconic Kashi Vishwanath Temple after the evening aarti. The temple premises take on a completely different vibe at night with lamps illuminating the sanctum and chants resonating in the air. Walk through the ancient galis around the temple to soak in its mystical atmosphere. The less crowded time allows you to appreciate the intricate architecture and spiritual significance of this important Hindu shrine.
Conclusion:
Beyond the world-famous ghats and bustling bazaars, Varanasi has an offbeat side waiting to be explored. The city's narrow alleys conceal a number of architectural gems, vibrant cultural traditions, ancient ruins and mystical experiences for the curious traveler. Take a detour from the tourist trail to uncover these hidden facets of Varanasi on your next trip. Don't forget to share your own discoveries of the lesser-known sights of this timeless city!
FAQs Related to Offbeat Places in Varanasi
Q1. Which are some top offbeat places to see in Varanasi?
Ans: Some top offbeat places to see in Varanasi are Nepali Temple, Bharat Kala Bhavan Museum, Ramnagar Fort, Chunar Fort, Darbhanga Ghat, Khirkiya Ghat, Gyan Kupor Well, and Kashi Vishwanath Temple at night.
Q2. What is special about Nepali temple?
Ans: Nepali temple is a unique architectural marvel in Varanasi built in traditional Nepali pagoda style with intricate woodwork and carved details. It is dedicated to Lord Shiva.
Q3. Why visit the Bharat Kala Bhavan Museum?
Ans: Bharat Kala Bhavan Museum has a vast collection of over 100,000 artworks, artifacts and objects chronicling India's heritage and culture. It offers great insight into the historical and artistic side of Varanasi.
Q4. How old is Ramnagar Fort?
Ans: Built in Mughal style, Ramnagar Fort dates back to the 18th century and was the residence of Kashi Naresh, the kings of Varanasi.
Q5. What is Chunar Fort famous for?
Ans: Perched atop a hill, the ancient Chunar Fort has witnessed rulers from King Vikramaditya to Sher Shah Suri to the British. It offers impressive views.
Q6. Why visit Sarnath?
Ans: Sarnath is a major Buddhist pilgrimage site where Buddha gave his first sermon after enlightenment. There are many ancient ruins and monasteries to explore.
Q7. What can you do at Darbhanga Ghat?
Ans: Darbhanga Ghat is great to absorb old Varanasi charm on a peaceful boat ride or by watching the sunset.
Q8. How old is Gyan Kupor Well?
Ans: Located inside Kashi Vishwanath Temple, Gyan Kupor Well is believed to be around 2000 years old, built during the reign of King Vikramaditya.
Q9. Where can you observe Pind Daan rituals?
Ans: Manikarnika and Harishchandra Ghats are the places to witness the traditional Pind Daan rituals for ancestors.
Q10. Why visit Kashi Vishwanath Temple at night?
Ans: Visiting Kashi Vishwanath at night allows you to see the illuminated temple under a different light and atmosphere without crowds.