In recent years, Varanasi has also emerged as a popular tourist destination. The old city area near the ghats offers a unique glimpse into traditional Indian culture and spirituality. A boat ride on the Ganges at sunrise or sunset provides a serene experience. Varanasi is also famous for its silk saris, handicrafts, delectable street food, and classical music and dance performances.
For couples visiting Varanasi, one of the best ways to experience the city is by dining at a private cabin restaurant. These intimate restaurants offer privacy and a romantic ambiance perfect for couples. The private cabin restaurants in Varanasi are elegantly decorated with warm lighting, artifacts, curtains, and flowers. Couples can enjoy a candlelight dinner with delicious regional cuisine in their own little cocoon, away from the crowds. Here are 5 private Couple Cabin Restaurant in Varanasi.
5 P

rivate Cabin Restaurant in Varanasi For Couples
1. Canton Royale Restaurant
Canton Royale is one of the finest private cabin restaurants in Varanasi located in the upscale Cantonment area. Each wooden cabin is exquisitely decorated with traditional lamps, mirrors, hanging lanterns, and drapes. The restaurant serves delicious Indian, Chinese, and continental cuisine. Couples can enjoy their meal undisturbed in the privacy of their luxurious cabin. Signature dishes like Dal Makhani, Mutton Roganjosh, Butter Chicken, and Kadhai Paneer are highly recommended.
The restaurant has an excellent service staff that ensures couples have a memorable dining experience. The prices are on the higher side but worth it for the high-quality food, romantic ambience, and outstanding service.
Address: S.20 / 51, Hotel Surya A-5, The Mall Rd, Cantt, Varanasi, Uttar Pradesh 221002, India
Phone Number: 94533 32566
Type of Food: Indian & global
Amenities: Elegant heritage space with a colonial ambiance, valet parking, full bar
Google Rating: 4.2/5
2. Ganpati Restaurant
Ganpati Restaurant is located in the Lanka area of Varanasi near the Assi Ghat. It has several AC and non-AC private dining cabins spread over multiple floors. The cabins have ornate interiors with wood-carved tables and chairs, curtains, floor cushions, and decor pieces. The restaurant is vegetarian and serves North Indian, Chinese, and continental delicacies. It is much praised for its fresh and flavorful thalis.
Ganpati provides friendly service, prompt catering, and live classical music performances to entertain guests. It is an affordable place for couples to enjoy a romantic dinner.
Address: Ganpati Guest House D3/24 Meer ghat, Lahori Tola, Varanasi, Uttar Pradesh 221001, India
Phone Number: 0542 239 0059
Type of Food: International
Amenities: Rooftop restaurant with views of the River Ganga, live music on weekends
Google Rating: 3.9
3. Blue Lassi Restaurant
Blue Lassi is a funky themed restaurant near the Dasaswamedh Ghat in Varanasi. It has vibrant blue walls adorned with colorful paintings and lanterns. The private dining cabins are decorated as per different themes like Mughal-style tents, beach huts, Moroccan rooms, and groovy retro dens. Couples can choose a cabin as per their taste for an immersive fine dining experience.
The menu offers finger-licking North Indian, Chinese, Italian, and Mediterranean cuisine and refreshing lassis. The blueberry lassi and the blue cheese naan are must-try. With friendly staff and lively ambience, Blue Lassi offers couples a memorable evening.
Address: P-5, Anandbagh, Bhelupur, Varanasi, Uttar Pradesh 221010, India
Phone Number: 0542 227 5700
Type of Food: Indian & Chinese
Amenities: Rooftop restaurant with views of the city, live music on weekends
Google Rating: 3.8/5
4. Tantra Rooftop Restaurant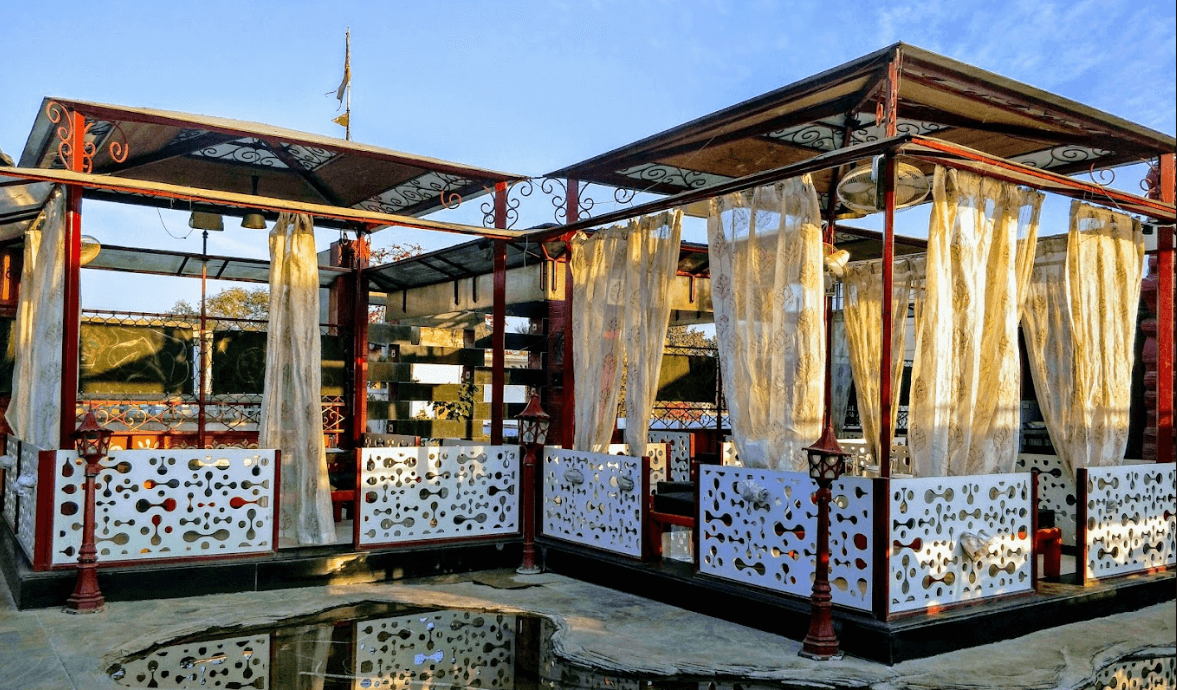 For couples seeking a high-end romantic dining experience, Tantra is the perfect option. It is located on the 5th floor rooftop of the upmarket Hotel Surya. Each private cabin is designed in earthy tones with Rajasthani-style decor. Low seating, curtains, candlelight, and live classical music create an intimate setting. The glass walls and ceilings allow natural light during the day and city views at night.
The menu curates the best of Indian cuisine with a wide variety of vegetarian and non-vegetarian options. Couples can enjoy the sunset over the Ganges while relishing inventive dishes like Paneer Tikka Roulade and Dum Gosht Biryani. The service is impeccable with well-trained staff attending to your every need.
Address: Mahmoorganj Road, Sonia Rd, Sigra Chauraha, Sigra, Varanasi, Uttar Pradesh 221010, India
Phone Number: 0542 250 2570
Type of Food: North Indian & Chinese
Amenities: Casual ambiance with family-friendly seating, home delivery
Google Rating: 4.3/5
5. Itihaas Alley Kitchen
Nestled in a quaint alley near Godaulia Chowk, Itihaas Alley Kitchen is renowned for its royal Awadhi cuisine and unique cabin-style dining. Each cabin is designed based on the culture of different Indian states. Couples can choose to dine in the ornate Rajasthani cabin or the exotic Kashmiri cabin. The chefs excel in preparing authentic Awadhi dishes like Galawat Kebabs, Lucknowi Biryani, and Shahi Tukda. Traditional performing arts and live music add to the regal experience.
Itihaas provides an intimate fine dining experience immersed in the culture, cuisine, and heritage of India. The caring staff and artful food make it one of the best private dining options for couples in Varanasi.
Address: 5/26, Kedar Nath Lane, Bhelupur, Varanasi, Uttar Pradesh 221001, India
Phone Number: 98395 90320
Type of Food: Awadhi & Mughlai
Amenities: Cozy and romantic ambiance with private cabins, live music on weekends
Google Rating: 4.1/5
Conclusion
Varanasi's private cabin restaurants provide the perfect mix of intimacy, ambience, cuisine, and entertainment for couples seeking a romantic dining experience. Choices range from classic like Blue Lassi to avant-garde like Tantra Rooftop. Couples can enjoy meaningful conversations over candlelight dinners in their own little bubble.
These restaurants go the extra mile to create a cozy, elegant, and memorable evening for couples in love. From the decor to the cuisine to the service, everything is carefully curated for a fine dining experience. For couples visiting Varanasi, an evening at a private cabin restaurant promises to be a highlight of your trip!