If you're yearning the intense flavours of Rajasthan while visiting the holy city of Varanasi, go no further than Rajasthani Rasoi. This well-known restaurant is positioned in the thriving Mahmoorganj neighbourhood, just a short distance from the famed Kashi Vishwanath Temple, and it offers a delectable dining experience that will take you to the lively state of Rajasthan.
About Rajasthani Rasoi Varanasi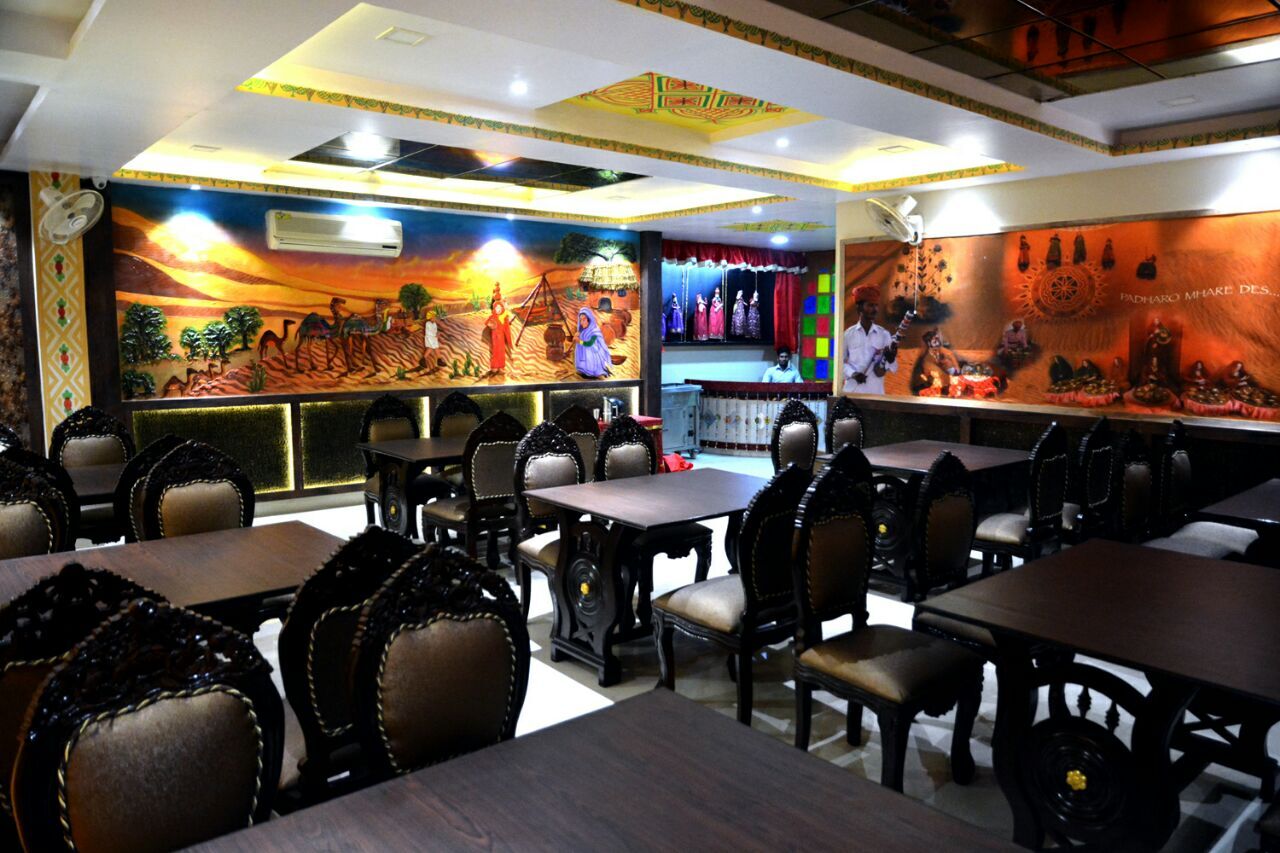 The moment you walk inside Rajasthani Rasoi, you'll notice the welcoming environment. Traditional Rajasthani elements have been skillfully incorporated into the restaurant's interior design to create a setting that goes well with the genuine food they offer. You'll be in a setting that oozes comfort and charm whether you decide to eat indoors or select comfortable outdoor seating.
Here are some more details about Rajasthani Rasoi:
Address: 381, Mahmoorganj, Varanasi, Uttar Pradesh 221001
Contact number: +91 91305 70000
Opening hours: 11:00 AM to 11:00 PM
Specialties: Dal baati churma, ghevar, Rajasthani pizza, tandoori chicken, Rajasthani Thali in Varanasi
Other details: Vegetarian options available, air conditioning, outdoor seating
Diverse Menu of Rajasthani Rasoi, Varanasi
Try the "Rajasthani Thali in Varanasi" if you want a genuine flavour of Rajasthan. The eatery serves traditional favourites including ghevar and dal baati churma. A typical cuisine from the area is called Dal Baati Churma, which combines lentil soup (dal), baked bread rolls (baati), and a sweet broken wheat dessert (churma). This dish's blend of tastes and textures is genuinely amazing, and Rajasthani Rasoi does a fantastic job of conveying its genuine flavour.
You won't be let down if you enjoy tandoori food either. You must sample the tandoori chicken from Rajasthani Rasoi. The luscious chicken is prepared with the ideal combination of spices, marinated to perfection, then roasted in a traditional clay oven, imparting a smokey and powerful flavour that will leave your taste buds hankering for more.
Quality of the food at Rajasthani Rasoi
The meal at Rajasthani Rasoi is of a superior calibre than anticipated. Each meal is meticulously prepared by the chefs, who take great satisfaction in making sure the flavours are strong and genuine. The substantial portions will leave you feeling full and satisfied. And what's even great is that Rajasthani Rasoi is a superb option for both residents and tourists because the costs are so affordable.
Let's take a moment to hear what others have to say about Rajasthani Rasoi:
"The food was absolutely delicious! The dal baati churma was the best I've ever had. The service was also excellent." – Google User

"This is my favorite Rajasthani restaurant in Varanasi. The food is always fresh and flavorful, and the service is excellent." – TripAdvisor User

"A great place to try authentic Rajasthani cuisine. The prices are very reasonable, and the portions are generous." – Zomato User
Rajasthani Rasoi need to be at the top of your list if you're in Varanasi and hoping to have a special meal. It provides a chance to experience the culinary wonders of Rajasthan without leaving the holy city thanks to its genuine flavours, welcoming service, and affordable costs. The phone number to call Rajasthani Rasoi is +91 91305 70000, and their location is 381, Mahmoorganj, Varanasi, Uttar Pradesh 221001.
Conclusion
Finally, Rajasthani Rasoi in Varanasi offers a lovely culinary tour of Rajasthani flavours. This restaurant offers something for every palate, whether you enjoy traditional Rajasthani cuisine or crave cutting-edge fusion delicacies. Rajasthani Rasoi guarantees a dining experience that will leave you with happy memories and a satiated hunger thanks to its warm atmosphere, excellent service, and delectable cuisine.